Tasting notes: dense dark chocolate, roasted walnuts, cinnamon, nutmeg, rose; full-bodied 
Origin: Maui coffee    Variety: Maui Mokka® 
Roast: medium-dark
MAUI MOKKA: FRESH CROP 2020
This is a great year for Maui Mokka: it's
exceptionally
 heavy-bodied, fudgy, and fragrant.
Mokka is a Maui coffee incredibly well-suited to it's trademarked name: Maui Mokka®. There's speculation that these tiny beans are the result of a spontaneous cross of an heirloom Yemenis Mokha with a Maui Typica. 
It's sometimes assumed that a larger bean size will augment cup quality - the bigger the bean, the better the quality. We haven't found this to be the truth. In fact, Mokka is the contrarian of the coffee world: these tiny beans captured the coveted
first place in the 2014 Hawaii Cupping Competition,
becoming the best Hawaiian coffee in commercial division entrants. 
 
Because the Mokka beans are so small, it's challenging to harvest. Yields can also be light. So, why grow Maui Mokka? Simple: it's elegant, with notes of chocolate, rose, and baking spice.
Tasting notes: dense dark chocolate, roasted walnuts, cinnamon, nutmeg, rose; full bodied     
Origin: Ka'anapali, Maui Coffee
Varietal: Maui Mokka® 
Roast: Medium Dark
Perfect for: single-origin espresso, drip, those with preference for rich, low-acid coffees
Cost per cup: $0.54 per espresso shot, $1.07 per brewed cup
マウイ モッカ
100% マウイ モッカ
ロースト: ミディアムダーク
ティスティングノート:  チョコレート、クルミ、シナモン、フルボディ
HAWAIIAN COFFEES
Orders are roasted Sunday-Thursday and shipped Monday-Friday. Roast dates are applied to your order.
U.S.P.S. Flat Rate is $4.60 and arrives within 5- 10 business days.
FedEx 2Day delivery is free on orders over $49, or $6.95 on orders under $49. Shipments arrive within 4 - 6 business days.
Fastest available shipping: the priority FedEx 2Day upgrade is $9.95 and arrives within 3 - 4 business days. We prioritize these orders over all others. 
We cannot ship Fedex packages on Saturdays nor offer Saturday delivery.
 
ESPRESSO BITES
Because Espresso Bites are made without stabilizers or preservatives, they may bloom or melt when shipping temperatures exceed 80 F.  If this is a concern in your location please select FedEx shipping. 
If you notice a white color to your bar, it's perfectly safe to eat. This happens when the cocoa butter softens and migrates to the surface. It happens more often when shipping in warm weather. Learn more about blooming.
Espresso Bites that melt or bloom when shipped via FedEx are eligible for a full refund or credit.
Espresso Bites that melt or bloom when the buyer elects Free Shipping or standard USPS are eligible for a credit.
If your order is incorrect or damaged in any way, please email us at hello@bigislandcoffeeroasters.com with your order number within 7 days of receiving your order.
International shipping is available to most locations. Rates will be visible at checkout, and may include customs duties and taxes. 
RETURNS & EXCHANGES
COFFEES
We stand behind the quality of all our coffees and want nothing more than for you to love them.
Please consider your preferences and ensure the coffee(s) you order align with those preferences. For example, if you love dark roasts, we strongly advise you only order dark roasts.
If you're dissatisfied with any of our coffees, please reach out to us at aloha@bigislandcoffeeroasters.com within 7 days of receipt and we'll do our best to find the right coffee for you. 
If your coffees arrive damaged, please send a photo of the box in the condition you received it within 7 days to aloha@bigislandcoffeeroasters.com
If you receive the wrong items, please contact us within 7 days of receipt and we'll gladly provide a replacement, refund or credit.  We may request you mail it back for inspection and assessment.
EVERYTHING ELSE
All merchandise and non-perishable, non-coffee items may be returned or exchanged within 14 days of receipt. Please reach out to us at aloha@bigislandcoffeeroasters.com and our team will be happy to facilitate. To be eligible for a full refund, items must be in original packaging and in new condition. Please include your full name and order number with the return. 
Once your return is received and inspected, we will send you an email to notify you that we have received your returned item. We will also notify you of the approval or rejection of your refund. 
Please note: Only regular priced items may be refunded. Sale items cannot be refunded. 
RETURN ADDRESS
Big Island Coffee Roasters, PO BOX 400, Mountain View, HI 96771
Customer Reviews
Write a Review
Ask a Question
05/11/2020
Awesome coffee from an outstanding roaster!
Awesome coffee beans from an outstanding roaster and excellent coffee 'top chef!' The beans are exactly as described, grind perfectly, and drip and press with excellence. This roaster has such a great selection, my only struggle is deciding which to try next!
05/14/2019
I love your coffee, and I love your brand.
I love your coffee, and I love your brand. Keep it up, and I'll keep buying your product. Mahalo!!!
08/18/2020
Awesome
Their coffee is the most well balanced product I have ever tasted!!!
tim d.
United States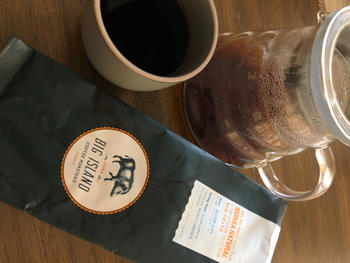 08/15/2020
Flavorful
I love how flavorful it was on my first sip. I really like the nuttiness of it. Overall, it's a very enjoyable cup to have in the morning, and to pair with a pastry in the afternoon.
Voltaire V.
United States
02/19/2020
I love Hawaii and Hawaiians. I've lived there and still go back to work from time to time (Ship Carpenter). I take part of Hawaii back to NH with me to make my way through this world. Coffee helps. Hawaiian coffee helps more. Sharing the breath of life, MAKAI.
12/22/2019
I find that I enjoy drinking Big Island Coffee black. It has a smooth, robust flavor. It also requires less ground coffee to brew my favorite cup.
08/12/2019
Would love it if I could get green beans for Maui Mokka again.
04/23/2019
Maui Mana, Maui Mokka, and Puna Io Kea
Your Maui Mana, Maui Mokka, and Puna Io Kea were so good I can list them off the top of my head even though I've had them over a span of years.
NOTICE THE BUBBLES...
See those bubbles? When your coffee blooms with bubbles it's a sign that it's been recently roasted. The fresher the coffee, the more intensity you'll get because great flavors and aromas fade over time.
☛ Our coffees are roasted-to-order each week, then packaged and shipped immediately, and arrive with the roast dates stamped on the bag.