5780732772505
RESERVE: Yellow Bourbon | 100% Ka'u Coffee
Tasting notes: juicy pineapple, fragrant rose, sandalwood, white grape, cucumber, raw almond. Powerful, vibrant, sparkling sweetness.
Origin:Ka'u coffee, hand-harvested.

Roast: medium-light
Size: 7 oz
LUSH & JUICY YELLOW BOURBON
With abundant sweetness, intense aromatics and sparkling tropical fruit flavors, Yellow Bourbon is as lush and elegant as it is rare to find in Hawaii. And despite its name, Yellow Bourbon (pronounced 'boar-bone') has nothing to do with the adult beverage.
This crop is the first harvest from young Yellow Bourbon coffee trees, produced by the same farmer of our amazing 94 pt Ka'u Maragogipe.

The Bourbon coffee variety tends to have pronounced fruit flavors and abundant sweetness. As such, it does very well in competitions. Case in point, it was our Puna Pink Bourbon which won Grand Champion in the state of Hawaii.

Coffee Review Blind Assessment: Juicy-sweet, high-toned, multi-layered. Strawberry guava, star jasmine, hazelnut, amber, cocoa nib in aroma and cup. Brightly sweet-tart structure with a vibrant acidity; lively, satiny-smooth mouthfeel. Fruit- and floral-toned finish.
The Bottom Line : An exceptional Yellow Bourbon grown in the Ka'u region of the Big Island of Hawai'i: expressive, nuanced, complex, juicy.
SHIPPING RATES
Please note: Orders may require 2-4 business days to fulfill based on order volume at the time. You may upgrade to priority shipping for faster fulfillment times.

Domestic USA
U.S.P.S. Flat Rate is $5 and arrives within 5- 10 business days.
FedEx 2Day delivery is free on orders over $49. 
Upgraded FedEx shipping may be purchased at the time of checkout. This prioritizes your shipment in the queue. 


International Shipping

International shipping is available to most locations via USPS, FedEx or UPS. Listed rates do not customs duties and taxes.

Canada:
Up to 1 lb: $12.95
1.1- 2 lb $15.95
2.1-3 lb: $19.95
3.1-4 lb: $26.95
Over 4 lb: Please see quotes at checkout
Everywhere else:
Up to 1 lb: $17.95
1.1- 2 lb $19.95
2.1-3 lb: $24.95
3.1-4 lb: $35.95
Over 4 lb: Please see quotes at checkout


HAWAIIAN COFFEES
Orders are roasted Sunday-Thursday and shipped Monday-Friday. Roast dates are applied to your order.
We cannot ship Fedex packages on Friday, Saturdays nor Sunday. 
ESPRESSO BITES
Because Espresso Bites are made without stabilizers or preservatives, they may bloom or melt when shipping temperatures exceed 80 F. If this is a concern in your location please select FedEx shipping.
If you notice a white color to your bar, it's perfectly safe to eat. This happens when the cocoa butter softens and migrates to the surface. It happens more often when shipping in warm weather. Learn more about blooming.
Espresso Bites that melt or bloom when shipped via FedEx are eligible for a full refund or credit.
Espresso Bites that melt or bloom when the buyer elects Free Shipping or standard USPS are eligible for a credit.
If your order is incorrect or damaged in any way, please email us at hello@bigislandcoffeeroasters.com with your order number within 7 days of receiving your order.
CREDITS, RETURNS & EXCHANGES FOR PERISHABLES
We stand behind the quality of all our coffees and want nothing more than for you to love them.
Please consider your preferences and ensure the coffee(s) you order align with those preferences. For example, if you love dark roasts, we strongly advise you only order dark roasts.
If you're dissatisfied with any of our coffees, please reach out to us at aloha@bigislandcoffeeroasters.com within 7 days of receipt and we'll do our best to find the right coffee for you. Please note that we do not provide refunds or returns for perishable products.
If your coffees arrive damaged, please send a photo of the box in the condition you received it within 7 days to aloha@bigislandcoffeeroasters.com. We'll send a replacement.
If you receive the wrong items, please contact us within 7 days of receipt and we'll gladly provide a replacement or credit. We may request you mail it back for inspection and assessment.
COVID UPDATE: We are not responsible for the tracking or delivery of packages once they leave our facility and are in the hands of the carrier. Carriers are experiencing record volumes and transit times may change based on conditions at the time. We are not responsible for packages that are delayed or changes in transit time due to Acts of God. However, if your package fails to arrive or disappears en route, please contact our team.
AUTO-RENEW PRODUCTS
We offer a 5% discount on auto-renew products. In order to be eligible for the discount, we require two shipments. You may swap to a second product if you are not satisfied with the first. This policy is to deter individuals from purchasing a subscription for a single shipment solely for discounts.
EVERYTHING ELSE
All merchandise and non-perishable, non-coffee items may be returned or exchanged within 14 days of receipt. Please reach out to us at aloha@bigislandcoffeeroasters.com and our team will be happy to facilitate. To be eligible for a full refund, items must be in original packaging and in new condition. Please include your full name and order number with the return.
Once your return is received and inspected, we will send you an email to notify you that we have received your returned item. We will also notify you of the approval or rejection of your refund.
Please note: Only regular priced items may be refunded. Sale items cannot be refunded.
Roasted coffees are not eligible for refund. If you choose not to
RETURN ADDRESS
Big Island Coffee Roasters, PO BOX 400, Mountain View, HI 96771
Customer Reviews
Write a Review
Ask a Question
03/24/2021
I recommend this product
Best Damn Coffee Ever!!!
I bought as much as I could! Super happy with the tasting notes shining through, as I LOVE pineapple and white grape. The balance with the sandalwood and rose to finish was superb, making for a vibrant, excellent cup!
Steve V.

United States
02/16/2021
I recommend this product
Good stuff
Really enjoyed the Ka'u Yellow Bourbon coffee. Thanks Big Island for picking another winner.
Chuck D.

United States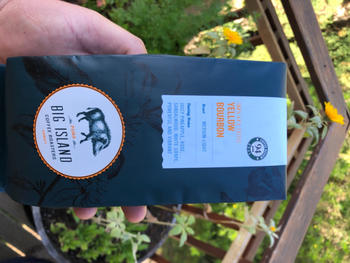 02/16/2021
I recommend this product
Best Freaking Coffee Ever
Can't say enough! This is the best offering from the best roaster. Ever. It has all the quality's my pallet loves. Cup it black, to really appreciate the nuanced complexity. I've been a loyal customer for quite sometime. I firmly believe that no one in the Hawaii region can hold a candle Big Island Coffee Roasters. I relish any of their med/light roasts from Puna or Ka'u, but this Yellow Bourbon is incredible
Ryan H.

United States
02/16/2021
I recommend this product
Delicious coffee!
I was extremely pleased with the overall taste of the Yellow Bourbon beans.
Jeffrey R.

United States
02/16/2021
I recommend this product
Love this coffee!
This was my first time ordering the Yellow Bourbon and I'm glad I did! The flavor notes are delicious and makes me feel like I'm back on Maui! It's helping me get through quarantine when I can get back there for real!
Tom O.

United States
02/13/2021
I recommend this product
Great Coffee!!
I believe this is the best, at least amongst the best coffee that I've had. It has a sweet aspect to it and is extremely smooth. Usually I need to add milk and maybe a bit of salt to tone down the bitterness of some coffees. This one doesn't require this manipulation.
Sam

United States