Ka'u Darkwood | 100% Ka'u Coffee
• Tasting notes: tobacco, blackberry fudge & spruce; heavy-bodied
• Origin: 100% Ka'u coffee
• 
Roast: dark

DARK AND DEEP KA'U COFFEE
This dark roast Ka'u coffee is rich and spicy, with fudge character complemented by robust fudge, tobacco and spruce notes that round into a blackberry finish.
Ka'u Darkwood is recommended for espresso, cold brew, Aeropress, and French press because these brewing methods showcase the density and richness of Darkwood. 
Farms: various in the Clouds Rest region of Ka'u.
Varietal: typica, caturra Processing: washed

Perfect for: lovers of rich, warming coffees; delicious with dairy or without; cold-brew, French press, espresso
Cost per cup: $0.59 per espresso shot, $1.11 per cup, hand-harvested
Suggested brewing: Press pot. Use 16.5g of 395-400 F water to 1g coarse ground coffee. Bloom with 75g water for :30 then add remaining water and brew for an additional 3:00.
カウ ダークウッド
100% カウコーヒー
ロースト: ダーク
ティスティングノート: ファッジ、ナツメグ、ブラックベリー、豊かでスパイシー
HAWAIIAN COFFEES
Orders are roasted Sunday-Thursday and shipped Monday-Friday. Roast dates are applied to your order.
U.S.P.S. Flat Rate is $5 and arrives within 5- 10 business days.
FedEx 2Day delivery is free on orders over $49. Upgraded priority shipping may be purchased at the time of checkout.
We cannot ship Fedex packages on Saturdays nor offer Saturday delivery.
ESPRESSO BITES
Because Espresso Bites are made without stabilizers or preservatives, they may bloom or melt when shipping temperatures exceed 80 F. If this is a concern in your location please select FedEx shipping.
If you notice a white color to your bar, it's perfectly safe to eat. This happens when the cocoa butter softens and migrates to the surface. It happens more often when shipping in warm weather. Learn more about blooming.
Espresso Bites that melt or bloom when shipped via FedEx are eligible for a full refund or credit.
Espresso Bites that melt or bloom when the buyer elects Free Shipping or standard USPS are eligible for a credit.
If your order is incorrect or damaged in any way, please email us at hello@bigislandcoffeeroasters.com with your order number within 7 days of receiving your order.
INTERNATIONAL SHIPPING
International shipping is available to most locations. Rates will be visible at checkout, and may include customs duties and taxes.
CREDITS, RETURNS & EXCHANGES FOR PERISHABLES
We stand behind the quality of all our coffees and want nothing more than for you to love them.
Please consider your preferences and ensure the coffee(s) you order align with those preferences. For example, if you love dark roasts, we strongly advise you only order dark roasts.
If you're dissatisfied with any of our coffees, please reach out to us at aloha@bigislandcoffeeroasters.com within 7 days of receipt and we'll do our best to find the right coffee for you. Please note that we do not provide refunds or returns for perishable products.
If your coffees arrive damaged, please send a photo of the box in the condition you received it within 7 days to aloha@bigislandcoffeeroasters.com. We'll send a replacement.
If you receive the wrong items, please contact us within 7 days of receipt and we'll gladly provide a replacement or credit. We may request you mail it back for inspection and assessment.
AUTO-RENEW PRODUCTS
We offer a 5% discount on auto-renew products. In order to be eligible for the discount, we require two shipments. You may swap to a second product if you are not satisfied with the first. This policy is to deter individuals from purchasing a subscription for a single shipment solely for discounts.
EVERYTHING ELSE
All merchandise and non-perishable, non-coffee items may be returned or exchanged within 14 days of receipt. Please reach out to us at aloha@bigislandcoffeeroasters.com and our team will be happy to facilitate. To be eligible for a full refund, items must be in original packaging and in new condition. Please include your full name and order number with the return.
Once your return is received and inspected, we will send you an email to notify you that we have received your returned item. We will also notify you of the approval or rejection of your refund.
Please note: Only regular priced items may be refunded. Sale items cannot be refunded.
Roasted coffees are not eligible for refund. If you choose not to
RETURN ADDRESS
Big Island Coffee Roasters, PO BOX 400, Mountain View, HI 96771
Customer Reviews
Write a Review
Ask a Question
10/29/2020
I recommend this product
Like a vacation in every cup
The KA'U Darkwood is so delicious. It's deep, complex and dark. And so so fulfilling. We just love it!
Michael K.

United States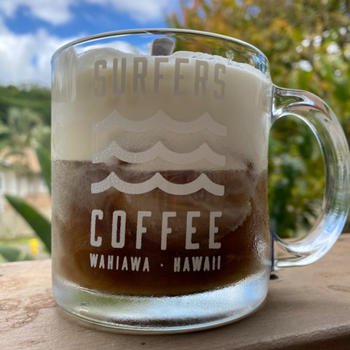 08/11/2020
I recommend this product
Best coffee ♡
I have to say this is so delicious. I usually let this steep overnight for about 12〜14 hours . I mix some caramel syrup and pour some cold foam over the coffee It's amazing taste ! If you like cold brew then I highly recommend this coffee !!! 
Erika A.

United States
08/13/2020
Big Island Coffee Roasters
01/04/2021
I recommend this product
Haven't received yet
I haven't received my coffee yet but as soon as I do , I'll try it and let you know
Jennifer A.

United States
11/14/2020
I recommend this product
Great coffee
To be honest i am finishing up my Hawaiian Harmony order but did get one cup of the Ka'u Darkwood and it was great.
Michel B.

United States
05/12/2020
A
A high quality product.
05/11/2020
Ratings Review
Ratings Review
NOTICE THE BUBBLES...
See those bubbles? When your coffee blooms with bubbles it's a sign that it's been recently roasted. The fresher the coffee, the more intensity you'll get because great flavors and aromas fade over time.
☛ Our coffees are roasted-to-order each week, then packaged and shipped immediately, and arrive with the roast dates stamped on the bag.