2196666843232
Ka'u Darkwood | 100% Ka'u Coffee
Tasting notes: fudge, molasses, blackberry, vanilla, and spruce. 
Origin: 100% Ka'u coffee

Roast: dark
SMOOTH & SWEET DARK KA'U COFFEE
This dark roast Ka'u coffee is smooth, sweet, and ideal for those who enjoy dark roasts that aren't burnt.
A daily favorite of our team, Darkwood is regularly enjoyed as espresso and via immersion-style brewing (French press, Clever, etc). 

Farms: various in the Clouds Rest region of Ka'u.
Varietal: typica, caturra Processing: washed

Perfect for: lovers of rich, warming coffees; delicious with dairy or without; cold-brew, French press, espresso
Cost per cup: $0.59 per espresso shot, $1.11 per cup, hand-harvested
Suggested brewing: Press pot. Use 16.5g of 395-400 F water to 1g coarse ground coffee. Bloom with 75g water for :30 then add remaining water and brew for an additional 3:00.
カウ ダークウッド
100% カウコーヒー
ロースト: ダーク
ティスティングノート: ファッジ、ナツメグ、ブラックベリー、豊かでスパイシー

SHIPPING RATES
FedEx 2Day delivery is free on orders over $49.00. Under $49, standard shipping rates are $5.95. 

Standard U.S. fulfillment and delivery times are 2 - 5 business days. Holiday fulfillment and delivery times vary, and can be 5 - 10 days. 

Upgrade to priority shipping for faster fulfillment times.
HAWAII UPGRADES
FEDEX PRIORITY (2 - 4 business days) $15.95
FEDEX (3 - 5 business days) $12.95
Domestic USA UPGRADES
U.S.P.S. Flat Rate is $5.95 and arrives within 5- 10 business days.
FEDEX PRIORITY (3 - 6 business days) $17.95
FEDEX UPGRADE (4 - 8 business days) $12.95
* Upgraded FedEx shipping may be purchased at the time of checkout. This prioritizes your shipment in the queue.
International Shipping

International shipping is available to most locations via USPS, FedEx or UPS. Listed rates do not customs duties and taxes.

Canada:
Up to 1 lb: $12.95
1.1- 2 lb $15.95
2.1-3 lb: $19.95
3.1-4 lb: $26.95
Over 4 lb: Please see quotes at checkout
Everywhere else:
Up to 1 lb: $17.95
1.1- 2 lb $19.95
2.1-3 lb: $24.95
3.1-4 lb: $35.95
Over 4 lb: Please see quotes at checkout


HAWAIIAN COFFEES
Orders are roasted Sunday-Thursday and shipped Monday-Friday. Roast dates are applied to your order.
We cannot ship Fedex packages on Friday, Saturdays nor Sunday.
ESPRESSO BITES
Because Espresso Bites are made without stabilizers or preservatives, they may bloom or melt when shipping temperatures exceed 80 F. If this is a concern in your location please select FedEx shipping.
If you notice a white color to your bar, it's perfectly safe to eat. This happens when the cocoa butter softens and migrates to the surface. It happens more often when shipping in warm weather. Learn more about blooming.
Espresso Bites that melt or bloom when shipped via FedEx are eligible for a full refund or credit.
Espresso Bites that melt or bloom when the buyer elects Free Shipping or standard USPS are eligible for a credit.
If your order is incorrect or damaged in any way, please email us at hello@bigislandcoffeeroasters.com with your order number within 7 days of receiving your order.
CREDITS, RETURNS & EXCHANGES FOR PERISHABLES
We stand behind the quality of all our coffees and want nothing more than for you to love them.
Please consider your preferences and ensure the coffee(s) you order align with those preferences. For example, if you love dark roasts, we strongly advise you only order dark roasts.
If you're dissatisfied with any of our coffees, please reach out to us at aloha@bigislandcoffeeroasters.com within 7 days of receipt and we'll do our best to find the right coffee for you. Please note that we do not provide refunds or returns for perishable products.
If your coffees arrive damaged, please send a photo of the box in the condition you received it within 7 days to aloha@bigislandcoffeeroasters.com. We'll send a replacement.
If you receive the wrong items, please contact us within 7 days of receipt and we'll gladly provide a replacement or credit. We may request you mail it back for inspection and assessment.
COVID UPDATE: We are not responsible for the tracking or delivery of packages once they leave our facility and are in the hands of the carrier. Carriers are experiencing record volumes and transit times may change based on conditions at the time. We are not responsible for packages that are delayed or changes in transit time due to Acts of God. However, if your package fails to arrive or disappears en route, please contact our team.
AUTO-RENEW PRODUCTS
We offer a 5% discount on auto-renew products. In order to be eligible for the discount, we require two shipments. You may swap to a second product if you are not satisfied with the first. This policy is to deter individuals from purchasing a subscription for a single shipment solely for discounts.
EVERYTHING ELSE
All merchandise and non-perishable, non-coffee items may be returned or exchanged within 14 days of receipt. Please reach out to us at aloha@bigislandcoffeeroasters.com and our team will be happy to facilitate. To be eligible for a full refund, items must be in original packaging and in new condition. Please include your full name and order number with the return.
Once your return is received and inspected, we will send you an email to notify you that we have received your returned item. We will also notify you of the approval or rejection of your refund.
Please note: Only regular priced items may be refunded. Sale items cannot be refunded.
Roasted coffees are not eligible for refund.
RETURN ADDRESS
Big Island Coffee Roasters, PO BOX 400, Mountain View, HI 96771
Customer Reviews
Write a Review
Ask a Question
06/25/2021
I recommend this product
Kau Darkwood
The coffee has great body and taste; we love it and or customers love it!
Robert F.

United States
10/29/2020
I recommend this product
Like a vacation in every cup
The KA'U Darkwood is so delicious. It's deep, complex and dark. And so so fulfilling. We just love it!
Michael K.

United States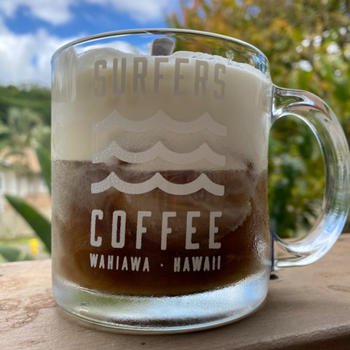 08/11/2020
I recommend this product
Best coffee ♡
I have to say this is so delicious. I usually let this steep overnight for about 12〜14 hours . I mix some caramel syrup and pour some cold foam over the coffee It's amazing taste ! If you like cold brew then I highly recommend this coffee !!! 
Erika A.

United States
08/13/2020
Big Island Coffee Roasters
10/29/2021
I recommend this product
Great full bodied flavor
I prefer a dark roast, full bodied flavor coffee and Ka'u Darkwood more than fits the bill. It is definitely one of my favorite go-to coffees for a perfect cup of morning coffee.
Kenneth P.

United States
10/25/2021
I recommend this product
Trying Different Things
I'm relatively new to "good" coffee and have been trying a lot of different coffees. I have been shying away from dark roast, because I wanted to visit the less bitter side of the coffee world. The notes for Ka'u Darkwood said "not burnt" and that sounded interesting. I have liked everything I have tried from Big Island Roasters, so I thought I'd give it a shot. Glad I did. Definitely not burnt, and maybe in my "Goldilocks" zone as far as bitterness goes. After trying this, I may stay with the dark roasts for another round, and try Stout Dark Heart, but Ka'u Darkwood is one that I will definitely buy again.
Thomas H.

United States
09/27/2021
I recommend this product
Craving home
I first tried Puna Kazumura back in 2016 and enjoyed it. Every summer, I usually get back to Hawaii and I order online locally and have also purchased your coffees at Foodland in recent years. I appreciate your efficiency to answer questions and the quality of your products. With the pandemic though , it has been 2 years since I've been back, and it doesn't look like travel will be allowed from Japan for awhile, so I ordered internationally for the first time and was impressed with the speedy delivery. Keep up the good work. Hugs from Tokyo!
Kat

Japan