2274387525728
Roasters Club | 4 Hawaiian Coffee Each Month
Members of the Roasters Club receive the absolute best and biggest variety of what we offer. Deliveries may include rare varieties and limited offerings like Kona Geisha, Honeyed Yellow Caturra, Giant Maragogipe, and more. All milled in small batches and roasted to order.
Roasters Club members also receive VIP offers and first access to rare Hawaiian coffees through private invitation.
In the Roasters Club, you'll receive:
4 x 10 oz bags of specialty 100% Hawaiian coffee each month.
Free domestic shipping year-round.
First access to rare Hawaiian coffees through private invitations.
Special offers before each shipment.
Coffees curated to your roast level.
Private farm and roastery tours (must be scheduled and subject to availability).
Please note:
All club shipments are roasted and shipped before the first week of each month, and your account will be charged between the 26th-28th.
New members that sign up on or before the 26th of the month at 9 PM HST will receive their first shipment 'on-cycle', meaning within the first week of the next month.

New members that sign up afterthe 26th will have their order held until the next club cycle.
If you need coffee immediately, please place a separate order because all items ordered with the club will ship at the same time.
Example of the order cycle for new members:
If you place your first order on January 25th, you'll receive your first shipment between Feb 1 - 7.
If you place your first order on January 27th, you'll receive your first shipment between March 1 - 7.
---
SHIPPING RATES
Please note: Orders may require 2-4 business days to fulfill based on order volume at the time. You may upgrade to priority shipping for faster fulfillment times.

Domestic USA
U.S.P.S. Flat Rate is $5 and arrives within 5- 10 business days.
FedEx 2Day delivery is free on orders over $49. 
Upgraded FedEx shipping may be purchased at the time of checkout. This prioritizes your shipment in the queue. 


International Shipping

International shipping is available to most locations via USPS, FedEx or UPS. Listed rates do not customs duties and taxes.

Canada:
Up to 1 lb: $12.95
1.1- 2 lb $15.95
2.1-3 lb: $19.95
3.1-4 lb: $26.95
Over 4 lb: Please see quotes at checkout
Everywhere else:
Up to 1 lb: $17.95
1.1- 2 lb $19.95
2.1-3 lb: $24.95
3.1-4 lb: $35.95
Over 4 lb: Please see quotes at checkout


HAWAIIAN COFFEES
Orders are roasted Sunday-Thursday and shipped Monday-Friday. Roast dates are applied to your order.
We cannot ship Fedex packages on Friday, Saturdays nor Sunday. 
ESPRESSO BITES
Because Espresso Bites are made without stabilizers or preservatives, they may bloom or melt when shipping temperatures exceed 80 F. If this is a concern in your location please select FedEx shipping.
If you notice a white color to your bar, it's perfectly safe to eat. This happens when the cocoa butter softens and migrates to the surface. It happens more often when shipping in warm weather. Learn more about blooming.
Espresso Bites that melt or bloom when shipped via FedEx are eligible for a full refund or credit.
Espresso Bites that melt or bloom when the buyer elects Free Shipping or standard USPS are eligible for a credit.
If your order is incorrect or damaged in any way, please email us at hello@bigislandcoffeeroasters.com with your order number within 7 days of receiving your order.
CREDITS, RETURNS & EXCHANGES FOR PERISHABLES
We stand behind the quality of all our coffees and want nothing more than for you to love them.
Please consider your preferences and ensure the coffee(s) you order align with those preferences. For example, if you love dark roasts, we strongly advise you only order dark roasts.
If you're dissatisfied with any of our coffees, please reach out to us at aloha@bigislandcoffeeroasters.com within 7 days of receipt and we'll do our best to find the right coffee for you. Please note that we do not provide refunds or returns for perishable products.
If your coffees arrive damaged, please send a photo of the box in the condition you received it within 7 days to aloha@bigislandcoffeeroasters.com. We'll send a replacement.
If you receive the wrong items, please contact us within 7 days of receipt and we'll gladly provide a replacement or credit. We may request you mail it back for inspection and assessment.
COVID UPDATE: We are not responsible for the tracking or delivery of packages once they leave our facility and are in the hands of the carrier. Carriers are experiencing record volumes and transit times may change based on conditions at the time. We are not responsible for packages that are delayed or changes in transit time due to Acts of God. However, if your package fails to arrive or disappears en route, please contact our team.
AUTO-RENEW PRODUCTS
We offer a 5% discount on auto-renew products. In order to be eligible for the discount, we require two shipments. You may swap to a second product if you are not satisfied with the first. This policy is to deter individuals from purchasing a subscription for a single shipment solely for discounts.
EVERYTHING ELSE
All merchandise and non-perishable, non-coffee items may be returned or exchanged within 14 days of receipt. Please reach out to us at aloha@bigislandcoffeeroasters.com and our team will be happy to facilitate. To be eligible for a full refund, items must be in original packaging and in new condition. Please include your full name and order number with the return.
Once your return is received and inspected, we will send you an email to notify you that we have received your returned item. We will also notify you of the approval or rejection of your refund.
Please note: Only regular priced items may be refunded. Sale items cannot be refunded.
Roasted coffees are not eligible for refund. If you choose not to
RETURN ADDRESS
Big Island Coffee Roasters, PO BOX 400, Mountain View, HI 96771
Customer Reviews
Write a Review
Ask a Question
07/15/2020
I recommend this product
True Coffee Aloha
I know the owners Brandon and Kelleigh personally and can tell you they are both kind and use their knowledge of the land to produce the absolute best coffee you will find in Hawaii or for that fact anywhere. I would recommend becoming a club member so you can get the experience of different tastes and textures. Warmest aloha, Jason Ray
Jason R.

United States
09/11/2021
I recommend this product
Outstanding Coffee Flavors & Roasts!!
I am extremely pleased - the inclusion of the Ka'u Peaberry in the latest selection was a very wonderful surprise!! I also like the selection of roasts - it gives me the opportunity to enjoy the coffees in your recommended preparation.
Rich D.

United States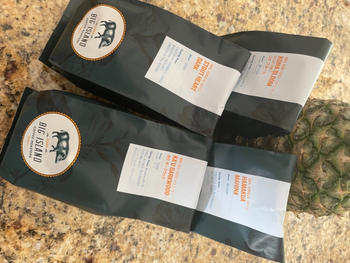 08/13/2021
I recommend this product
Outstanding coffee!
I moved up to the 4 bags a month club as 3 wasn't enough. Our family loves the smooth, rich and balanced taste of the variety of beans. I let the roasters choose my 4 bags each month and they have always delivered. You have got to try their coffee! Mahalo to the Big Island Team!
Kurt W.

United States
03/10/2021
I recommend this product
Fantastic fun
Being part of the Roasters Club has been a wonderfully fantastic experience. I have enjoyed each and every bag of artfully roasted beans. As I write this review I'm enjoying a fresh AeroPress of Mokka Natural, the tiny beans from heaven. What a blessing!
Christopher S.

United States
02/16/2021
I recommend this product
I'm totally in love with my Roasters Club
Best coffee! Best client service! 110% Satisfied.
Jean-Francois G.

Canada
11/19/2020
I recommend this product
Yummy
Fast shipping, great communication, and amazing product...
Jason R.

United States